IMELDA
Directed & Produced by: Ramona S. Diaz.
Director of Photography: Ferne Pearlstein.
Music by: TAO Music, Grace Nono & Bob Aves.
Released by: Unico Entertainment.
Language: English & Tagalog.
Country of Origin: USA. 103 min. Not Rated.
Imelda Marcos was the wife of Ferdinand E. Marcos, the 10th Philippine President of the Philippines.
When the palace doors came loose on their hinges the amount of STUFF was incredible:
A billion here

800 million there

An office tower in Manhattan

A waterfront estate on Long Island

Dozens of country houses in the Philippines

A secret second palace in Marcos' home province, Ilocos Norte
In December, 1975, Cosmopolitanmagazine named Imelda Marcos, the First Lady of the Phillippines, as one of the ten richest women in the world. It even went a step further and speculated that Imelda was perhaps the richest woman in the world, richer than Queen Elizabeth II of Great Britain.
Speaking of Imelda Marcos; has anyone else heard the David Byrne and Fatboy Slim concept album about her life? There are some wonderful songs on it. My favorite is the title track, Here Lies Love, featuring the magnificent Florence Welch.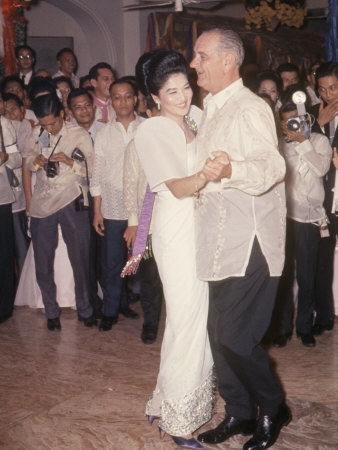 President Lyndon B. Johnson Dancing with Imelda Marcos During His Asia Tour